Difference between revisions of "le tumcakrespa jo'u le clakeryractu"
---
Latest revision as of 13:58, 26 February 2015
le tumcakrespa jo'u le clakeryractu
sei la .eisop. cu finti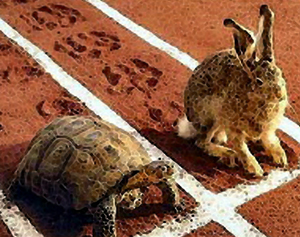 ni'o puzuvuku zasti fa lo clakeryractu goi ko'a noi jgidu'esku losedu'u ri kakne lonu bajra co sutmau ro drata zi'e noi puze'e zdifanza la tumcakrespa goi ko'e sera'a lo ri ka masno .:i ca lo djedi le selfazyfe'u cakrespa cu spusku "lu do jinvi lodu'u do mo .:i noda tolxu'a lodu'u do sutra .:ijeku'i cumki fa lonu do do'anai te jinga li'u" .:i le ractu cu clabrato'a cmila
ni'o "lu te jinga fo xu lonu bajra .:i te jinga fi ma .:i li'a na go'i fi do .:i mi dejru'a fo lodu'u noda poi zasti le munje cu kakne lonu jinga fi mi .:i mi tai se kamsutra .:i ju'a .ei do troci li'u"
ni'o le cakrespa noi se fanza lo tai nu jgidu'esku cu zanru lenu se talsa .:i lo pluta cu se platu .:ijebo ca lo bavla'i cermurse ko'a jo'u ko'e sanli le cfari linji .:i le ractu cu ta'irva'u co siptcu ca lonu le filseltro cakrespa cu masno lonu ta'idzu cliva .:i ca gi le ractu cu visysanji lodu'u makau ni lo ri se jivna cu cortu masno gi ko'a jdice ca lonu xadba sipna sanli fi lo ko'a jamfu kei lodu'u .ei torsipna .:i "lu ko na sutra -sei ko'a cusku- mi ba vonoroi kalgaisligau gi'e mo'u jersi do zi lo mentu li'u"
ni'o le ractu pu cikybi'o co spaji co'u lo vitci nunsipna gi'e vabycta co sisku le cakrespa .:ijeku'i le danlu cu darno milxe sai gi'e ba'o ja'aru'e klama fo fi'uci le jvilu'a .:i ca lonu surbi'ova'u kei le ractu cu jdice lodu'u .ei va'o citka lo cersai ji'a .:ijebo ko'a cliva tezu'e lonu citka lo kobli noi ko'a pu sanji tu'a ke'a bu'u lo vi foldi .:ijeku'i le barda sanmi .e le glare solri cu rinka lonu lo ko'a kalgai cu blefa'u .:i ca lonu nonselra'u zgana le cakrespa noi ca xadba mulno tu'a le jvilu'a kei ko'a jdice lodu'u .ei za'ure'u torsipna pu lonu gusysutmu'u fo le jinga mokca .:ije ca gi cmila co pensi le se firfra be la cakrespa bei ca lonu ri visysanji lonu le ractu cu sutra jbili'u gi ko'a sipna mulno binxo gi'e zi sipyva'u co gleki .:i le solri co'a galjdika mo'ini'a le tankoi .:ijebo le cakrespa noi ba'o tijdzu fa'a le jinga mokca ba'o le cerni cu naru'e sepli le fanmo linji pa minli .:i co'iku le ractu cu cikybi'o co sukydesku .:i ko'a kakne lonu viska le cakrespa tai lo mokca vi le darno gi'ebazibo co'a vilmu'u .:i ko'a plipe je pipmu'u co sutra mutce .:i ko'a cu se tance lo luzdandu gi'e sukyva'u lo vacri .:i bazi lo cmalu ko'a da'i pamoi tolyli'a le fanmo .:iku'i le romoi nunpi'e be le ractu cu sa'u lerci dukse .:iki'ubo le cakrespa ba'o jinga tolyli'a le jinga mokca .:i selke'i ractu .:ica lonu tatpi gi'e si'arcau kei ko'a tijyfa'u lo jibni be le cakrespa noi smaji cisma fa'a ko'a
ni'o "lu loka masno cu banzu roroiku li'u" –sei ko'e cusku